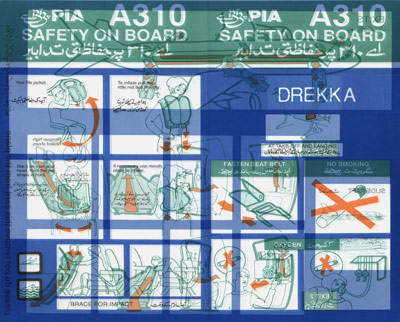 REPOST of the NEWS UPDATE from the
DREKKA WEBSITE
:
My good friend
DYLAN ETTINGER
just released a new DREKKA tape on his new cassette label,
EL TULE
. It's available NOW over at the
BLUESANCT SITE
.
This cassette, entitled 'PIA: Flight 831/761' is a 30 minute sound journal I recorded in the airspace of Pakistan on October 16, 1999. While travelling home from Nepal that day, my friends and I were delayed for a few hours in Karachi airport because there was a coup happening in Islamabad! We weren't in any danger, but it was still quite intense.
Side A features an extended spontaneous harmonium piece entitled 'Ke Garne' (Nepalese for 'What to do')... layered harmonium melodies blend with the sound of the airport and CNN reporting the coup live as it unfolds.
Side B features a 15 minute master-mix of the exciting in-flight entertainment offered on board PIA... enjoy the sound of the plane and an eclectic A.D.D. shitfest of sound!
This is the first in series of audio journal cassettes from the Drekka archives... the next one, recorded in and around Kathmandu, Nepal, should be out in a month or so... followed by... ?
(ps- If Kirstin or Andy or Justin or Greg or Sarah are reading this, shoot me an email and I'll send you a copy!)
In other news relating to Drekka and
DYLAN ETTINGER
, we will be heading east for a 'Spring Break 09' tour in March... most of the dates are confirmed and listed already on the
DREKKA MYSPACE PAGE
(and don't forget to friend us).
Let me know if you will be coming to a show so we can meet up.